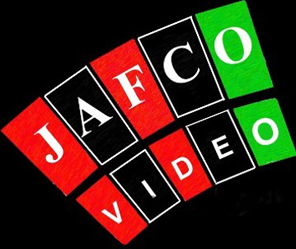 Jafco Roulette Films
Long roulette film clips are notoriously boring which is why I have chosen to make many short but extreme high odds clips. In fact, there are about 40 films on the Jafco roulette network and the odds on these clips range from about 1,000 to 1 up to 2.6 million to one. By making as many films as this, one can see that I would need to do about 3 million film clips to capture these moments if the odds were normal. In truth, it takes very little time to achieve the required film as the margin in the player's favour can, at the right playing times, be very high.
There are no film cuts during actual play but there may appear to be jumps in the films, A replay will show that it wasn't a film cut.
Winning big at roulette is not about just going up to any wheel and expecting to win every spin. The top professionals are seeking out a combination of the best wheels and the best conditions for play. When we visualize the control we can gain over a particular roulette wheel we then have the potential to win a months money in half an hour !


The Jafco Roulette Systems have now been available online for over five years and during that time there has been a catalogue of success stories from genuine player customers.
( Be sure to see the testimonial sections - linked at the bottom of this page)
To celebrate this 5th anniversary I am very pleased to announce the launch of several new and innovative products.
First of all, I would like to make my updated visual roulette system more widely available as it is the perfect place to start and also the best way to see and test the validity of the Jafco roulette playing principles. I am pleased to announce a new promotional price of £155 for this product.
In addition to a great price offer, players will also receive a new visual system update manual (booklet), including the ideas and experiences of some of the more successful pro-roulette player customers, more great tips and a summary of the full roulette visual playing system.
Secondly, I am pleased to announce that I have now completed the development work on the Advanced Visual Roulette System, including a new type of player card that will never attract any attention, and more significantly, an even more customised vibration unit to assist practise with both ball and wheel speed judgement. In addition, I have prepared some card maker charts that will enable a player to card any bet positions between 5 and 25 secs. (that's just about all possibilities) These charts are perfect for both the visual and dealer signature systems.
Most pro roulette players are familiar with the unique Jafco roulette overlap technique, and in order to create a visual simulation of these hot betting positions, I have also drawn up several charts, each representing a different wheel speed and a variation of ball deceleration rates.
The New P
red7
-X Roulette Predictor
Thirdly and perhaps most significantly, I am proud to launch the new Pred7X roulette system program, where the X is for Xtras ! Players will have all the original pred7 menu tools and a whole lot more.
A. One of the key new features is the option for playing completely level wheels, where the more level the wheel is, the better it gets!
B. We now have an option for using between one and four bet positions, enabling the player to cover between 5 and 20 pockets of the wheel. This is a great option for when playing in rough conditions, a very early bet, or the level wheel game.
C. With the Jafco Predictor roulette program, we use an adjustable prediction window and we have reduced the time intervals at which it moves, allowing an accurate clocker to take even more advantage of his skills.
D. Drag spin is a key characteristic when it comes to the action of a spinning roulette ball and during these conditions we use the drag tool in the menu. This feature has been further developed to handle the different levels of this type of ball spin.
E. Last, yet possibly best of all, Pred7X program players will have the option for hands free clocking, though this product is an optional extra that we recommend using after the initial practice period. This product was designed with an associate of mine some time ago and there is also a patent application in progress.

Jafco's Visual Roulette System
The first film shows the latest versions of the classic Jafco visual roulette system in action. This is the most accurate of the two visual methods of play in that we gain this extra accuracy from betting within the last 10 seconds of the spin. If you are looking for a system for betting earlier in the spin or perhaps a method that requires less player skills, then this would be where the Jafco dealer signature system comes into play and shown lower down on this page.

Please note: There are no film cuts during actual play.
In this first Visual roulette system video I am keeping my two neighbour bets close together as the conditions are good. I am therefore aiming at double neighbour bet winners. Please note that in the first spin I actually make an error and mean to bet 14 and 9 but in error, I wrote 14 and 19. Number14 wins and so it's no problem, other than pointing out that it would have been another double winner!!
Pred7
Jafco Roulette Computer Prediction
This is my most recent video demonstration of the latest Pred7 roulette predicting program.
I am using four neighbour bets to cover a wide section of the wheel, where there are multiple pin landings.
If you are looking for the maximum winning margin then you may be interested in software prediction using the amazing Pred7computer roulette prediction software. This system is based exactly on the original jafco visual roulette system with many additional benefits and options, such as being able to predict at any time from the first full revolution of the ball as in the first film, to any time later in the spin. The program is installed onto a small ipaq PDA and comes with all single player accessories, including the micro earpiece.


A free pre-purchase demonstration in London is offered to genuine players and with free training for new customers and, for those unable to visit London, the Pred7 can be purchased with my email training course.

In this first Pred7 video I am simulating a machine type wheel where the wheel is pushed, followed later with a random ball throw. This test video will show how it is possible to bet as early as we want, even on the basis of a single ball revolution time.
Roulette
Dealer's

Signature
This is a great system in that there are five different ways to apply it, giving the pro-player even more options for roulette play. The style of game that you select will depend mainly on the moment that you have to make your bets. Style 1 is where we must bet before the start of the spin and in this instance the key is being able to predict the action of the good roulette dealers. Style 3 is applied when we are able to bet a little after the start of the spin, where there is enough time to assess the roulette wheel speed, and straigfht away, this one extra piece of information would naturally enhance our winning roulette edge potential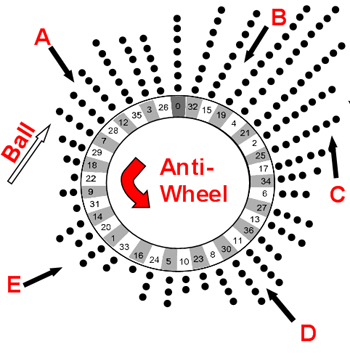 In the previous system videos I have been just throwing the ball and wheel with very little thought and then picking it up during the spin. In the dealer signature film clip below however, I am playing the part of the good dealer and throwing deliberately with consistency to show the type of dealer action we would like and what we may well find !

In this first "Dealer Signature" film, I am taking the role of a dealer on auto pilot. I am also throwing from particular area in order to demonstrate the pattern in its most simple form. A dealer can ofcourse be tracked from whatever number he throws from, it's just that the pattern would not appear so obvious but would be just as strong. Please note that this roulette dealing skill is not applied in any of my system play videos where I pick up the wheel and ball action after the start of the spin

Copyright 2011 Jafco. All rights reserved.