Roulette Winners Stories
Jafco Roulette
In the United Kingdom roulette law states that a player may not tamper or affect the ball in any way, furthermore a player must not alter the state of the roulette wheel in any way and finally, they must not do anything that would physically affect the outcome of any individual roulette spin.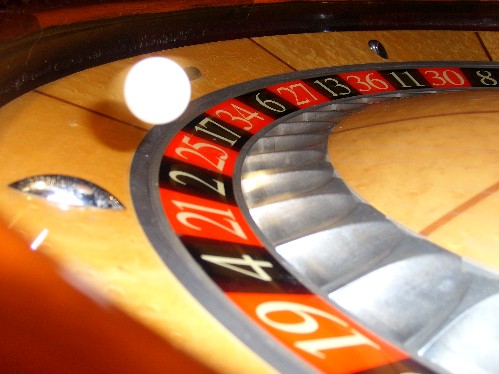 Mathematical or mechanical roulette systems are not specifically prohibited as they should technically be worthless in a game that is said to be random. Roulette is not random of course and could therefore be taken advantage of by either players or casino roulette dealers.
Most of my videos show the player's advantage but on my extra information page of my Visual Roulette System you will also find how the croupier can take advantage too. I have not myself ever been employed as a croupier but all the same system factors and fundamentals apply and so it has always been a natural interest to develop a method for spinning roulette number sections just for fun and practice.
Roulette Blitz at the Ritz Casino
Roulette system sellers like me are sometimes accused of writing about the Ritz scam in order to imply that we may be the program inventor. Although I believe I have the best program anywhere, I was not in any way connected to the Ritz team of players, though I am sure you can imagine the level of interest it would have invoked with me.
There have for many years been good wheels at the Ritz, that's good wheels for the advantage player I mean. It was not so much about the program that was used but more about the originality of the method combined with the astronomical size of the bets.
1.3 million was won over two days and a computer was definitely used to predict at a very high margin level on a wheel that was biased.
It was reported in the newspapers that a laser scanner was used to clock the wheel and that the reason they were caught was because the casino CCTV picked up a laser beam.
The precise truth is known by only a few because there was no case to answer and it never reached a court room as they were not considered to be in breach of any UK law. If a scanner was used then it would have enabled a non manual input and this would have had obvious advantages. However if scanners were used then it was also said to have been the reason why they were caught, as it was reported that the scanner was picked up by the cctv cameras and thus ending this style of play before it had hardly started. To my knowledge this method of play is now considered not viable.
The all important aspects for me were firstly that it clarified the law in that they had to be paid their winnings because they did not affect the wheel or ball in any way, indeed they did not need to because the roulette wheel was already warped and biased.
Secondly it showed that when you reach the peak of your roulette skill and know for certain when there is a high margin on offer then the secret is to bet huge.
Nearly all my customers have a winning edge at roulette and when a player says that he walks in with $100 dollars and often turns it into about $2000 I immediately think of pointing out just how much this could be just by changing the size of the bet.
It was rumoured that on the second day the size of the bets were raised by 5 times and with the playing conditions being good things just got crazy.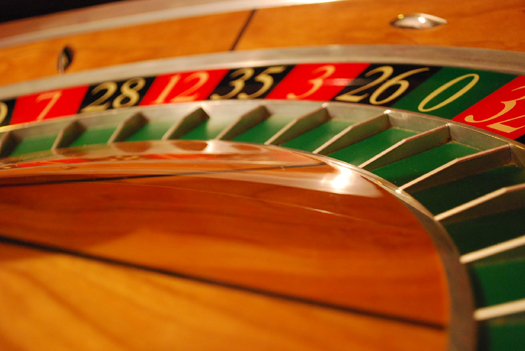 Times newspaper article 5th December 2004
Laser –sharp gamblers who
stung Ritz can keep £1.3m
A trio of gamblers who pulled off an audacious coup at the Ritz in London using James Bond-style gadgetry to calculate where the ball would land are to be allowed to keep their £1.3m winnings, writes Maurice Chittenden.
Scotland Yard, which seized cash and froze bank accounts during the nine month investigation into the alleged 'sting', has decided there are no grounds to prosecute the gamblers.
The gaming trio - described by police sources as a 'chic and beautiful' Hungarian woman, aged 32 and two elegant Serbian men aged 32 and 38,
were alleged to have smuggled a laser scanner linked to a micro-computer into the Ritz casino inside a mobile phone.
The scanner measured the speed of the roulette ball as the croupier released it, identified where it dropped and measured the declining orbit of the wheel.
These three factors were beamed to the micro computer which calculated into which section of numbers on the wheel the ball would finally settle.
This information was then flashed onto the screen just before the wheel makes its third spin by which time all bets must be placed.
Having reduced their odds from 37-1 to 6-1, the trio placed bets on all six numbers in that section to ensure they would win.
On the first night they won £100,000. They returned the next day to win £1.2m.
The gamblers cashed in their chips and were paid £300,000 in cash and a £900,000 cheque.
The casino's security experts began examining the closed circuit television footage and officers from the yard's gaming squad arrested the trio staying at a hotel near by on suspicion of obtaining their winnings by deception.
They have been reporting back to the yard on police bail but they have now been told that they are free to leave Britain.
The yard said ''the case has been stamped 'no further action' all the money Impounded at the outset of the inquiry has been returned''.
Legal sources said the gamblers had to be let off because they had not violated any law. The scanner did not interfere with the ball or roulette wheel. It provided information but did not manipulate the game.
Dr. Mark Griffiths, professor of gambling at Nottingham Trent University said
" if these people get off using this device, it opens up an avenue for others to try the same".
The casino is beneath the Ritz Hotel in Piccadilly. Both were bought by the Barclay brothers, sir David and sir Frederick in a £75m deal in 1995. John Anderson a casino director said "you have caught me at a bad time, I am not in a position to talk about this".
Times newspaper article 5th December 2004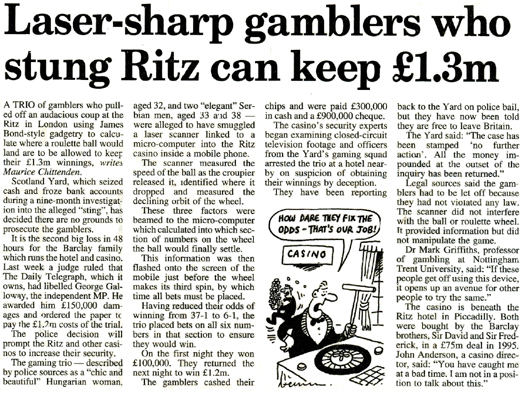 Wheel of Fortune
It may not be a roulette wheel this time but one of my favourite triumphs involved the wheel of Fortune in the Amsterdam Casino. As many of you will already know, the wheel of fortune is spun on its vertical axis and a leather strap will slowly decelerate the wheel as the winning pockets pass by.
To make things very tricky the tightness of the leather strap is tweaked slightly each day giving rise to a different deceleration rate of the fortune wheel. The fact that they need to change this tightness suggested to me that there was a reason why it was necessary. If it was possible to read the wheel then they certainly would need to change its action as frequently as possible. It is here that the problem lay for the casino, in that players would always get at least a full day on each setting and plenty of time to practice and acclimatize to each new setting.
With the Wheel of Fortune it is very important for the casino to call no more bets before the wheel is spun, as not doing this will enable a professional to predict the most likely result and gain a gamblers advantage. There was often an element of confusion because so many players applied pressure to bet after the throw on the basis that the dealer could otherwise throw the opposite section to the popular bet area.
This pressure often passed onto the dealers and so the casino in Amsterdam decided to get the dealers to throw the wheel, then ask for the bets and then after calling 'no more bets' giving the wheel another push. Many dealers didn't get their heads around the significance of this 2nd push process and a handful of them consequently accepted bets after the second push.
By waiting around for the right dealers we were able to predict after the throw and consequently do rather well.
My roulette system and special wins are far more significant for me but it goes to show that there are openings and opportunities everywhere.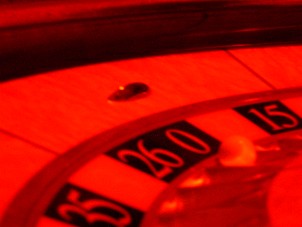 Law Breaking Roulette Scam Example
This next example of scamming the roulette game involves actual cheating which directly affected the action of the ball. It is easy to make a distinction here between legal systems that use mathematical calculations as opposed to illegal systems that involve 'fixing the roulette ball and /or roulette wheel'
This story involves a group of mainly German players who were alleged to have created an electromagnetic field and a remote control type of ball that they could control into the small yet desired landing zone. Their first illegal step was to change the casinos roulette ball for their own and the second was to affect where the ball would drop.
This crooked system was all very romantic and netted a few hundred thousand but there is a legal way of playing roulette successfully and therefore that fact alone makes breaking the law completely unnecessary and pointless.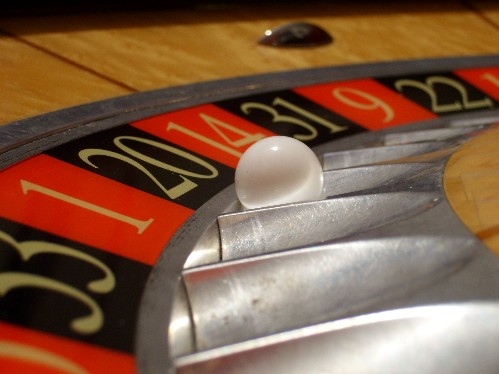 By Michael Leidig in Vienna
Published: TELEGRAPH
15 Jan 2003
"A gang of conmen has won hundreds of thousands of pounds from an Austrian casino by planting a remote-controlled magnetic roulette ball on a table.
Police yesterday said the five-strong gang used a concealed device near the table, possibly hidden in a watch, to create an electromagnetic field and manipulate where the ball went to within three spaces.
They did not win on every spin, but improved the odds sufficiently to pick up £250,000 over several weeks of regular visits to a Casinos Austria gambling house in Velden, Carinthia.
The group, believed to be four Germans and an Austrian, were only discovered when a croupier reached across the table to pick the ball up and it stuck to his cufflink.
He immediately notified his superiors, but by then the gang had fled.
Analysis of surveillance camera footage indicates that the gang was made up of one gambler, two people controlling the roulette ball and two more keeping watch and trying to distract attention from their associates. Officials believe they may have struck elsewhere, moving on every three months to avoid arousing suspicion.
Police and the casino management were yesterday trying to work out how the gang managed to swap their ball with the casino's. Once they had done so, they could take advantage of it again and again as the balls are kept in a safe overnight and returned to the same table.
Leo Wallner, the head of Casinos Austria, said: "I am pleased that we have exposed this con and can now act against it." Magnetic field detectors are to be installed at all Casino Austria properties."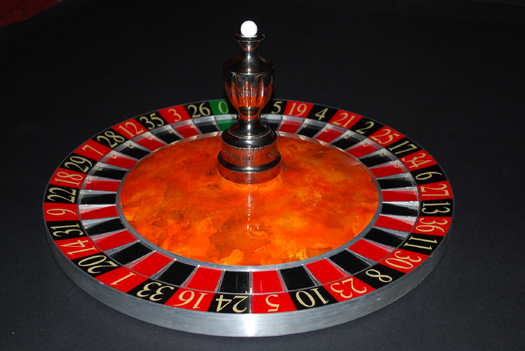 Keywords relating to this roulette article; Big Roulette Wins, Winners at roulette, Roulette computers and systems
Copyright 2011 Jafco. All rights reserved.
Jafcoroulette.com